self-acceptance is an individual's satisfaction or happiness with theirself, and it's thought to be necessary for good mental health}. Self-acceptance involves self-understanding, a realistic, albeit subjective, awareness of one's strengths and weaknesses. It results in an individual's feeling about oneself, that they are of "unique worth".
In clinical psychology and positive psychology, self-acceptance is considered the pre-requisite for change to occur. It can be achieved by stopping self criticism and solving the defects of one's self, and then accepting them to be existing within one's self. That is, tolerating oneself to be imperfect in some parts.
I'm writing this post just to encourage anyone who is finding it difficult to accept their flaws and forge ahead in life as I have had to deal with this at one point in my own life too and trust me it's not the easiest situation to come out of especially in this days of social media advancement and show off where everyone seeks or portrays perfection in all areas of life..it is particularly difficult when the people you surround yourself with are not giving you the right support system you need to snap out of this phase . For example, I have tribal marks on my face (which for the life of me , I dunno why my parents gave me)*sob*.. And I had to deal with all sorts of mockery and name calling thruout my childhood and early adult stage by schoolmates and even people I called friends…I was nicknamed "Number 11", Okola (the one with marks on the face) amidst other horrible ones which I choose not to remember , but trust me they were demeaning ….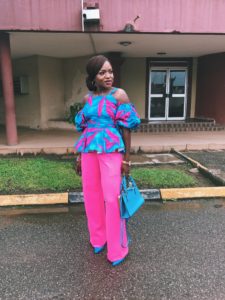 I became an angry child and a loner because I didn't want anyone to have the opportunity to talk to or mock me..
It took me forever to forgive my parents for inflicting this mark (though I was made to understand it was a family thing and everyone had it) and emotional pain that resulted from it  , but this forgiveness was the beginning of my healing and self acceptance …
I realized there was nothing I could do about it ,and the earlier I did that , the better for me…
So I started building my love for it and also grew a thick skin towards any negative comment hurled at me as a result of it …
Fast forward to today , I wear make up to enhance my beautiful face and l love who I see in the mirror….and there's nothing anyone can say to make me feel otherwise…I know I have flaws but they make me unique and awesome and I'm going to enjoy and bask in all of that uniqueness … I'm the real definition of 'FLAWSOME' .
Remember no single person is perfect , they either have just mastered how to create an illusion of perfection either with make up or with how they dress their body . And until one gets to that point of understanding , you can't even begin to think of devising ways to work around your flaws.
So today i urge you to look beyond whatever name calling you've had to deal with and first accept that this is you , your life / your body and you are not gonna loathe yourself instead love yourself beyond be careful so that your inward shine can totally radiate and show verily on the outside….
I sincerely hope you learnt a thing or two you can utilise in your own daily life from this post.
What are your thoughts ? Did you experience any sort of name calling or shaming that affected you psychologically or otherwise? How did you deal with it? i'll really love learn new coping mechanisms….
Be sure to follow me:
Bloglovin ,  Instagram , Twitter , Facebook for updates.
Till next time….. x