The floral suit trend has been around for a while. From Alexa Chung to Beyonce and Anna Dello Russo giving us their individual rendition of  ways to style this wardrobe staple .
It is arguably a must-have for every style enthusiast and fashionistas alike because of its numerous styling possibilities and wearability .
It can be quite an art to pull off though depending on what look one may be going for but if the styling is done right , the floral suit creates a perfect balance between power dressing and femininity.
Deciding to buy this suit was such an easy task because of the following reasons ;
WHAT TO CONSIDER WHEN BUYING A FLORAL SUIT . 
Versatility : I am very big on buying only items that have several styling possibilities . So before I purchase an item the first question that rings in my head is .."With What , and how can i style this outfit.

If I am unable to think of at least two ways on the spot to wear an item , I usually don't buy such items. The reason is they end up being under used and that means clutter , which is one thing i am intentionally trying to do away with this year. 

Style : I absolutely love the cut , the length and the single button fastening  of this jacket . The cropped length of the pant also hit big style notes for me .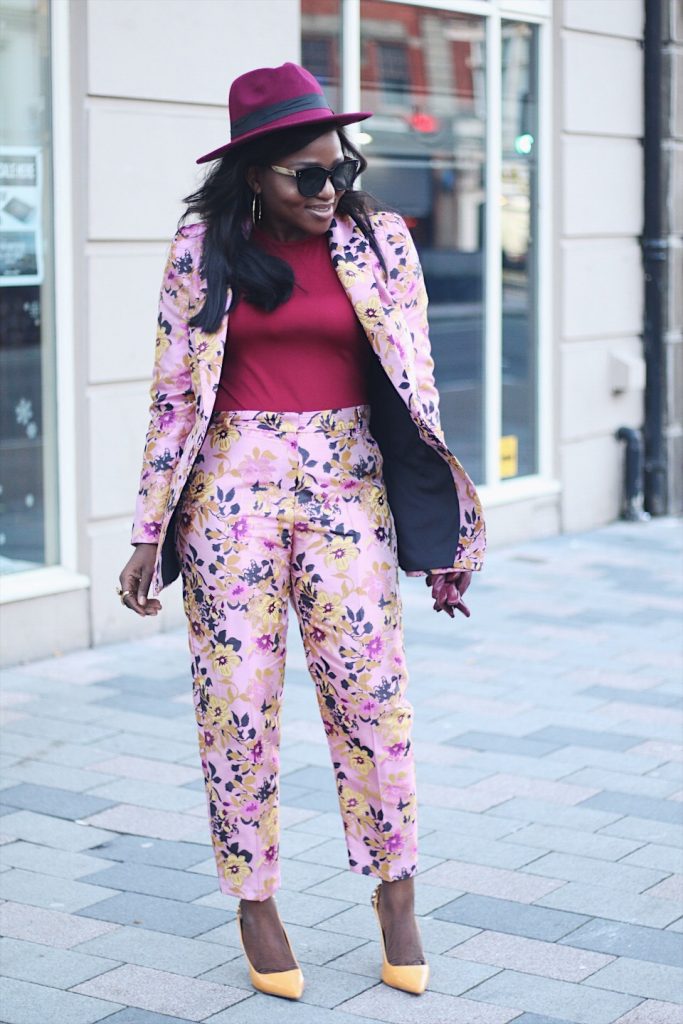 Color : What is life without colour ? Lately i have been making a conscious effort to add a bit of life to my closet by buying key pieces in colourful prints. I find that they brighten my mood, and they are easy to pair.
Below are two unique but versatile ways I styled this new addition to my wardrobe. 
STYLING A FLORAL SUIT
Look one
I decided to pair the look with a burgundy bodysuit , hat and yellow pumps for that Lady-Boss vibe with a soft feminine landing. 
This power look can be worn for a meeting, a corporate event and even a night out.
Another way to style this look would have been to wear with a sneakers to give it that casual , laid back feel.
I like that this floral suit goes with several  colours of shoes. (Repeat Offence brewing)
RELATED POST : HOW TO STYLE PRINTS
Look Two
A casual outing doesn't always have to call for jeans and a tee. A floral print pant is a simple way to look pulled together yet so effortless .
 I switched things up a notch and paired the pant of my suit with a mustard jumper that has button details (because I can be extra) and finished off the look with multicoloured shoes and beret for some extra edge…
You can also decide to rock the blazer over a simple tee-shirt and jeans with a pair of sneakers, mules or pumps.
So are you digging the floral print suit trend? Which of the two looks is your favorite?  Let me know in the comments below!
Outfit Details..
Jumper : Primark 
                                                                       Jacket : River Island here
Pant : River Island here
Shoe : River island here
                                                             Accessories : Desire1709fashion 
         Sunglasses  : Fendi Runway here
What are your thoughts about being kind to people?
I recently came to the conclusion that being kind has to be a superpower. A friend said this about me recently  and while that wasn't really the issue, the comments that followed got me awwww-ing. Because a lot of the things they talked about , i did without paying too much attention nor expecting anything in return . It was done just from the goodness of my heart .
To truly unlock happiness and greatness, I would recommend we all embrace this approach towards being kind to people. Because the truth is not all of our kind gestures will be reciprocated and if we are not conscious we can become bitter .
I mean, we all agree how difficult it can be to wish that store attendant that was so rude to you well. But yes, all it takes is just taking a deep breath and choosing to respond with kindness irrespective of the other persons behaviour .
The Benefits of being kind are enormous ,some are tangible and others intangible – Consider the following ;
Being Kind is Healthy : Performing an act of kindness releases the hormone serotonin in the brain which is linked to boosting our mood and reducing negative feelings. The hormone oxytocin is also released at the same time.This helps to lower heart rate and increase self esteem. Environments where kindness to one another is the norm is found to be very peaceful and warm to be .
Kindness Spreads : Research has shown that when people witness an act of kindness , this has a multiplying effect and they are more likely to perform random acts of kindness towards others once the opportunity present itself . When you are kind to someone, they react positively, and other people notice.  And they want that reaction too. It goes without the saying that "Kindness is like snow. It beautifies everything it covers."Khalil Gibranvia .
Watching the reactions that kind people get encourages even the selfish to be kind.  We all want to receive the warmth and gratitude that comes with kindness.
Daily we get several invites and nudge from life to choose to be kind and respond to kindness . We must not save being kind for only the big moments or only to people we think will be good to us in life.
If you can "Always help someone , You might be the only one that does."
Be sure to follow me:
Bloglovin ,  Instagram , Twitter , Facebook for updates.
Till next time…..