Chores are little jobs done around the home. In some homes kids have a daily routine that involves their daily chores while some other homes do not believe that kids should be assigned chores because it may mess with their school and so on. However, are chores beneficial to the kids in any way? Today I bring you 5 benefits of making your kids do chores.
Kids naturally do not want to do chores except for the 1% that love the idea of chores and see it as a fun activity to do. Most kids just want to run around the house playing all day. If you let them that's exactly what they will do all day long.
Back in Lagos, Nigeria , I had a live-in nanny who also helped with house chores but I made sure that as the boys were growing older , I started introducing them to little things here and there they could do to help round the house. Especially on general cleaning Saturdays….( I know it's a thing in almost every home).This is one thing I am so thankful for. Now that we are in England and all we have is ourselves ( i.e no external help or nanny ).
Studies have proven that chores are very beneficial in the growth of kids, as they acquire very important life skills that can only be gotten through working and applying one's self.
5 benefits of making kids do chores:
1.
Discipline: just the way working helps build discipline in adults, house chores help build discipline in children. Kids that have a routine that involves some assigned house chores are found to manage their time better so that they can fit in play, school, and chores.
You will be so surprised at how well children can manage their time and resources. Chores help build discipline as they will do their assigned daily work even if they don't want to.
2.
Responsibility: kids are irresponsible in nature, so assigning a daily task or chore to them is assigning them something to be responsible for.
If your child knows he or she has to carry out the trash daily after dinner, he knows that's his responsibility and failure to do so will result in a very smelly house in the morning.
He may not like the idea of the routine but he will find a way to fit it into his daily routine as this is his responsibility now.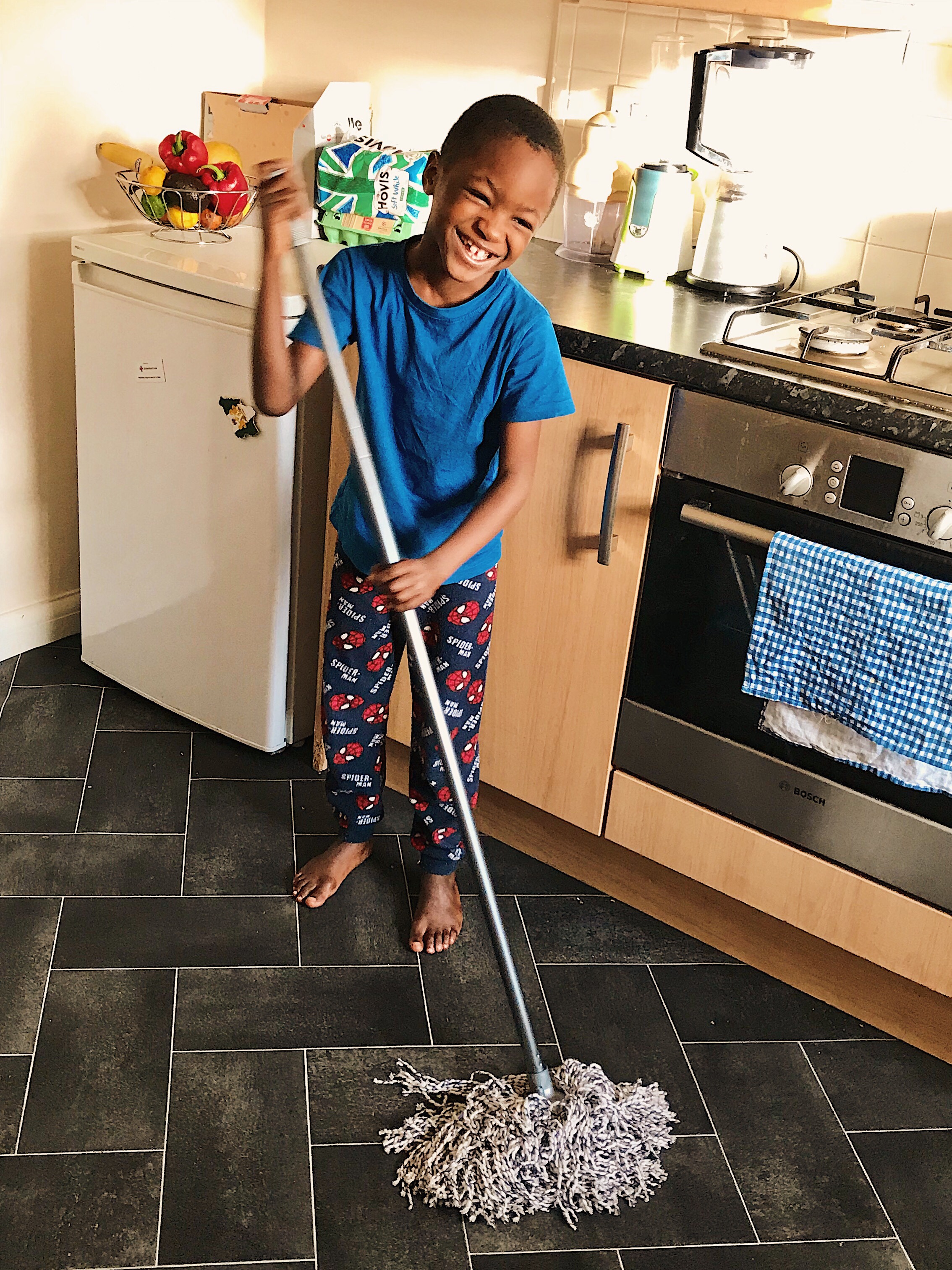 Adam (7) has the responsibility to help mop the little water droplets in the kitchen when I am cooking or doing the dishes. Even though he would rather play his game, he has gotten used to this duty now and he is enjoying it.
3.
Team Spirit: team spirit is the ability to work with others. So many people do not have this life skill as adults because it wasn't built in them as kids. Certain chores help children build team spirit because a family unit is a team and by doing their own part of the house chores they are contributing towards the smooth running of the household and every member of the home team is happy. In the real world, such kids would not have problems working with others which helps them in their adult lives.
General cleaning on Saturdays has all hands on deck, with each of us doing one thing or another to ensure the house is pristine clean and tidy.
This routine helps us greatly to bond and have fun while working together as a team in order to achieve one result.
4.
Self Esteem: Chores help your children build their self-esteem. How you may ask, but it's simple. They will feel needed for a particular thing around the house. This is a self-esteem booster as everyone including kids want to feel important. Children go through different struggles academically and otherwise. In their little ways it hurts their self-esteem but going home, finishing a task, and getting that smile and encouraging words from you, is sometimes everything they need to boost their self worth at that moment.
Even when they haven't executed well, I ensure I give them encouraging feedback and corrections, so they can do better next time.
5.
Purpose: For adults, their purpose helps them shape their dreams and work habits. The truth is adults are not the only ones that need that feeling of purpose, children need it also. Chores help kids have a sense of purpose that comes with the focus to finish the task ahead of them. There is pride in their labor as they know that finishing their tasks help everyone in the household.
As seen above, chores are great for the growth of the children. Kids gain very important life skills by doing their chores which will help them in the long run.
How to ensure kids do their chores.
Never have the mentality of if I do it myself it will be quicker and easier.
Have enough patience to guide your kids when they are doing their chores.
Ensure you assign chores based on age and strength. You can't ask a 3-year-old to do things a 5-year-old should be doing.
Guide to age appropriate chores for kids.
Here is a guide of age-appropriate chores for kids:
●
2 to 3- year-olds: can put away their toys or clothes, pick out their uniforms, help dress themselves and any other task you think appropriate for them.
●
4 to 5-year-olds: can make their own beds, arrange their rooms, feed their pets, make and help clear the table after meals.
●
6 to 7-year-olds: can put laundry away, clean their rooms and around the house, can wipe tables and counters and so on.
●
7 to 9-year -olds: can help around the kitchen, make their own food sometimes, wash plates, help with their younger ones from time to time.
●
10 to 11-year -olds: can clean kitchen, bathrooms, change their beddings, help in the cooking and setting of the table.
●
12 and above: can help babysit their younger ones, wash the plates, make small meals, write the shopping list for groceries and even help pick them up, wash the car, babysit younger siblings and do so many other things around the house.
The main key is to ensure you give each child, chores appropriate for their age, so you are not met with resistance and rebellion.
I hope you find this post helpful, and do you think that kids should be involved in chores around the house? Let me know your thoughts in the comment section below.
Thanks for stopping by …x
Be sure to follow me:
Bloglovin, Instagram, Twitter, Facebook for updates.